Discover: Collaborating with Intelligent Machines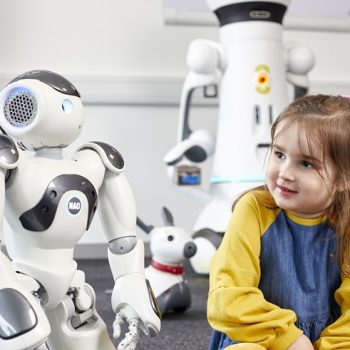 Intelligent machines were once the focus of Sci Fi and Hollywood. However, now they are becoming a reality. What are they capable of? How might they change how we work? Can we trust them? are serious questions. During this discovery day we shall show how collaboration with intelligent machines might work with hands on demonstrations. We shall also examine the challenges of machine interaction informed by state of the art of research in social and developmental robotics. Find out what robotics might mean for your business in the future – when the robots leave the factory floor.
Location: Education, Training and Engagement Suite, AWRC, Olympic Legacy Park 2 Old Hall Rd, Sheffield S9 3TU. (Tour)
Registration: 10:00. Close: 16:30
Privacy, Security, and Trust:
Learn about how the next generation of intelligent machines is being engineered to be our trusted partners.
Key Takeaways: Understand the mechanics of robot-related security threats and the standards being set to counteract them. Explore the evolving relationship between humans and robots concerning trust.
Personalisation:
Robots are more than just machines; they're being engineered to understand and adapt to our individual needs and preferences.
Key Takeaways: Learn how robots adapt to individual users and about the technologies driving these capabilities.
No-Code Robot Programming:
Think programming robots is hard? Think again! Join this interactive session where you can program robots without any coding knowledge.
Key Takeaways: Experience the power of no-code platforms and understand how they're making robotics accessible to all.
Presenters:
Abdel-Karim Al Tamimi
Alejandro Jimenez Rodriguez

Samuele Vinanzi

Sarah Hamburg
Mathew Story
Jims Marchang
Integration into Homes and Businesses:

Discover the ways intelligent machines are seamlessly being integrated into our daily environments to create truly smart homes and businesses.
Key Takeaways: Tap into the full potential of assistive devices and IoT systems.
Impact of Intelligent Machines:
Explore the broader implications of a world populated with intelligent machines.
Key Takeaways: Discuss the socio-economic, ethical, and environmental implications of widespread robotic integration.
Human-inspired machines:
An exploration of the frontier where robotics meets neuroscience.

Key Takeaways: Learn how the latest insights about the human brain are shaping our next generation of machines.
Anyone who wants to learn more about interactive intelligent machines
Embark on a thought-provoking journey into the world of intelligent machines with experts, enthusiasts, and like-minded individuals. Together we can shape the future of human-machine collaboration for the benefit of all.
Location: Education, Training and Engagement Suite, AWRC, Olympic Legacy Park 2 Old Hall Rd, Sheffield S9 3TU. (Tour)
Registration: 10:00. Close: 16:30